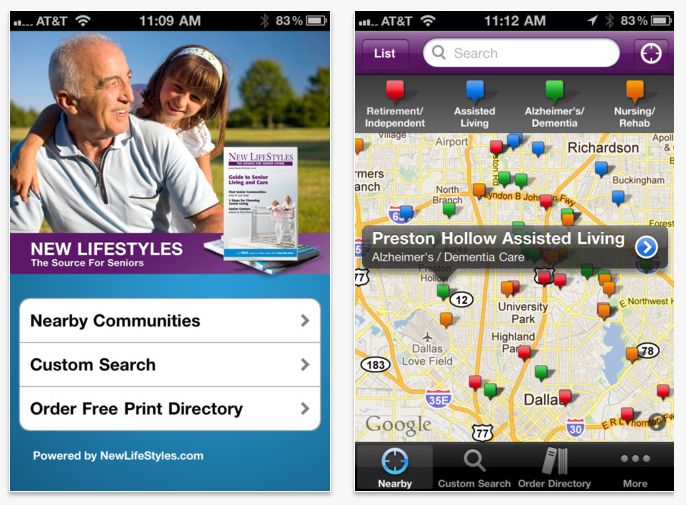 In the past year alone, we've seen a number of online research portals dedicated to helping find and review senior care options, and an even larger number of apps dedicated to everything from specialized caregiving to therapy plans. Now, one company is combining the best of both platforms.
Dallas-based New LifeStyles recently launched an iPhone app that displays senior living options in a given geographical area. A geo-mapping feature allows users to see nearby resources based on a current location, and tailor their searches to a specific region or even type of care – CCRC, assisted living, skilled nursing or memory care. Communities and services types are identified by a color-coded system, and users can receive directions on a map, visit a Web listing, and can even contact a community by calling or emailing directly from the app.
Doug Fusella, New LifeStyles president and COO, elaborated on the technology in a company press release: "An individual's search for a qualified senior living community often begins with a sudden loss-of-health event that injects urgency and confusion," he says, "often resulting in poor and costly choices. Even when there is time for a leisurely review, the attempt to make viable comparisons can seem bewildering. With these new digital channels, users can make fast and well-informed decisions from anywhere."
User guides are available in printable and digital PDF versions, and for those who (still) have not gone mobile, a free app site is accessible from a standard computer. Users can locate links to other pages and websites, and can email pages from the digital guide to friends and family members.
Necessity was the mother of invention, according to company history. New LifeStyles was founded in 1987 by Les Blaser who, after a frustrating attempt to research care options for his mother in the Dallas area, published one of the first guides on nursing and senior care facilities. Blaser and his wife launched New LifeStyles Online in 1995 as one of the first online resources, and the portal now provides free information on senior communities, home health, hospice, and senior products and services for 39 markets in the U.S. and Canada.
MARKETING INSIGHT: As mobile phones become more common and content becomes more sophisticated, watch for more product and service providers in the senior care space to explore and adopt this technology. As we uncovered in our recent research, the upcoming generations are adopting mobile technology at a fast pace, for a number of daily functions, and note that they are definitely influenced by mobile content. They're using them to download apps, read QR codes, or even enjoy entertainment – and much of the interest skews toward healthcare.
The impact of mobile internet will be a growing influence and enable marketers to communicate with this new generation of Boomers and seniors efficiently, since many enjoy browsing online in their free time and report being influenced by mobile content. For example, advertising on health or senior-oriented product sites would be one way to reach online seniors who may have a higher level of comfort with technology.
You can read more about the phenomenon in our latest white paper, The Great Disconnect.
Regards,
The Varsity Team