Right message. Right audience. Right time.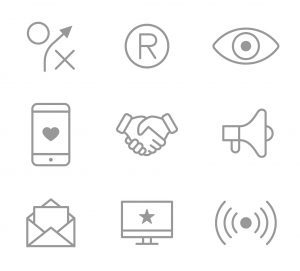 At Varsity, we have a passion for bringing each community's unique story to life. From public relations to direct marketing, and digital to media planning, our integrated services build momentum to give you a powerful competitive advantage. We create the right message and deliver it to the right people, at the right time, using proven tactics to break through the noise of a crowded marketplace. A fresh perspective — that's our promise to you.
Services designed to work hard and smart include:
Research: Through a variety of research methodologies, including focus groups, interviews, ethnographic studies, market feasibility studies and surveys, we and our clients gain an understanding of their communities and consumers while discovering truths about the mature market as a whole. Learn more about our research here.
Strategic development: Information uncovered by our research is distilled into a carefully structured strategic platform that leverages the unique, authentic and compelling attributes of each community.
Branding: Through our proprietary research process, we uncover core truths about a community. From these strategic insights, we develop an authentic brand, which is then communicated through every marketing tactic we employ.
Creative development: We work with each community to refine an identity that reflects the brand, and we execute targeted messaging through an integrated communications plan that unifies a full arsenal of tactics, including: print, websites, broadcast, digital and social media, collateral and direct marketing.
Digital and social media: Our team utilizes a wide range of digital tools, including SEM, SEO, email marketing and marketing automation, to appeal to present and future residents and build the online presence of the community.
Sales Consulting: We can assist you in meeting and exceeding sales & marketing goals while creating long-term sustainable occupancy and census growth. Services include: sales consulting and training, competitive analysis, sales & marketing assessments, and special event strategy and implementation.
Public relations: We provide ongoing public relations support to create buzz and build momentum, feeding content through our established contacts to relevant local and national outlets. We also work on longer-term goals, such as crisis communications planning and establishing communities as thought leaders.
Direct marketing: Using the right list, with the right message, at the right time, our customized direct marketing programs build a pipeline of leads, draw the right prospects to events and, ultimately, sell.
Interactive solutions: Our broad interactive capabilities include development, hosting and maintenance of robust websites, dedicated landing pages and other online tools, all designed to integrate seamlessly with our traffic-driving tactics.
Media planning/buying: We find the right mix of digital and traditional channels to efficiently reach prospects that are highly receptive to the community offering, and qualified to convert to a sale.
Data analytics: We offer a full suite of custom, cutting-edge and scalable services to enable communities to make data-driven decisions, ranging from data mining and visualization to predictive analytics. Learn more about our data services here.
"Today's mature market consumers are healthier, better educated and more technologically savvy than their predecessors. They know what they want, when they want it, and demand a voice in everything."
– Amy Murray, Partner