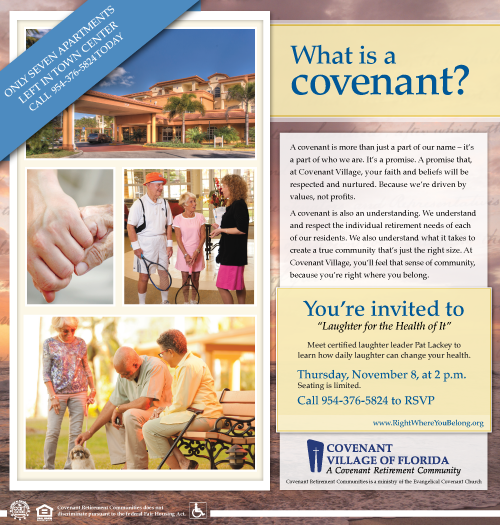 Grown Up Advertising is authored by our creative director and industry veteran Stephen Gordet, and covers the do's and don'ts of talking to the mature market.
One of the most difficult aspects of retirement community marketing is that no one wants your product. Have you ever heard anyone say, "I can't wait until I'm old enough and infirm enough to move into a retirement community!"? Probably not.
Most seniors begin to consider a senior living community after a medical event such as a fall or serious illness, or a life-changing situation like the death of a spouse or a sudden inability to maintain a home.
Every sale involves an attitude change. Prospects need to be convinced that the move to a retirement community will allow them to not just be safe, but to experience a fulfilling and rewarding life. We need prospects to come out to the community on multiple occasions, experience the social opportunities, enjoy the meals, and envision for themselves the possibilities of a fulfilling life there.
This can only happen over time, which is why our on-staff sales consultant, Maura Richards, tells us that it takes an average of 20 "intimate touches" to actually close a sale. So when we develop advertising, we incorporate not only branding, but also event marketing to get prospects out to the community as frequently as possible, along with special offers to create a sense of urgency.
Please take a look at the ad above that we created for Covenant Village of Florida. Our strategy is reflected in the branding. Based on our research, we knew that strongly faith-oriented individuals would be most attracted to this community. We wanted to target them, but not to the exclusion of others. The "covenant" language and concept that we developed did just that.
Then we added tactics: We promoted frequent on-site events that were of particular interest to seniors, getting them out to this beautiful community. Finally, we developed urgency through strong calls to action emphasizing the limited number of apartments and special move-in offers.
We implemented our plan through print, direct mail, paid search, specialized Web landing pages, and strong public relations and earned media components.
The result: We met and exceeded occupancy goals. Our success proves that, as in football, a correctly focused strategy and perfectly executed tactics give you a winning game. Contact us if you're interested in receiving a full case study for more detail.
MARKETING INSIGHT: A perfectly crafted strategy isn't enough. Carefully consider what is tactically necessary to close the sale.