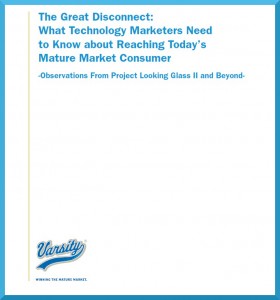 Product manufacturers, electronics retailers, and senior service providers continue to miss the mark when it comes to tapping an audience with spending power and an increasing interest in crossing the Great Digital Divide. But that's slowly changing, thanks to a new generation subtly driving the industry for themselves, their families and professional caregivers, according to Varsity's new research white paper.
The Great Disconnect: What Technology Marketers Need to Know About Reaching Today's Mature Market Consumer, is based on focus group findings of adults age 65-95, shop-alongs at major retailers, and observations gleaned while staying in a retirement community for one month during Project Looking Glass II.
The study examines how new generations of Boomers and seniors are using technology and making purchase decisions based on personal preferences, physical and logistical convenience and health-related concerns. It also identifies issues encountered while shopping the category, changing attitudes, and the factors influencing purchase decisions. Some of the top-level findings:
Today's "Transitionals" — a demographic mix of Depression-era Silent Generation and early Boomers — are the driving force when it comes to product usage and expectations that were formerly the realm of younger consumers.
More advances have to be widely implemented in the senior living industry and in light of the coming generations' familiarity with technology.
Children and grandchildren remain top influencers, both in terms of product education, recommendations, purchases and even repairs.
Companies that facilitate aging in place will play an increasingly important role.
Internet browsing is now a leisure activity, and many are influenced by mobile content.
Brick-and-mortar retailers should consider training staff to be patient with older, apprehensive consumers, or using peer "brand ambassadors."
"Technology has changed the fabric of our lives, but many innovations found in the broader market have yet to take hold in the mature market," said John Bassounas, Varsity director of client services. "But that's going to have to change, either by choice or by pressure. This study will confirm many industry observations, but will also offer new insights that can serve as the basis for planning for markets ranging from retirement housing to retail."
You can receive a free copy of the report here. Members of the Varsity team are available to provide in-depth presentations of the report, either via webinar or in person. To schedule a presentation or for additional information, contact Matt Bekelja at 717-652-1277 or .