In case you couldn't make it to our November Sales & Marketing Roundtables, here are some key takeaways from the month.
Rates Jump for 2023
Rate increases are expected to take a high leap in the upcoming year due to inflation and rising living expenses. Entrance and/or monthly fees are being raised across the board.
"Our rates are going up 7.5 to 8%, which is the biggest increase we've ever had that I can remember. Usually, it's only 2 to 3%. I also heard the average rate increase in the country is 9%." (Washington state)
"Yes, we're raising our entrance fee as well, by roughly 10 to 15%." (Arkansas)
GUEST SPEAKERS OF THE MONTH 
The Party is Over in Real Estate
Elias Papasavvas, CEO of Second Act Financial Services 
CElias spoke about the changing housing market and how it will likely impact the senior living industry. Seniors now have rising mortgage rates, lots of newer construction, and other factors that are putting the pressure on home sales and adding time to the selling process. This means it won't be as easy anymore for seniors to sell their houses, and not as quickly as they did earlier in 2022 during the housing boom. Second Act is a senior-focused division of a Federal Savings Bank that offers a senior-focused Home Equity Line of Credit and bridge loan solutions. They work with senior living sales professionals to help with the home sale process for seniors looking to move into an LPC/CCRC.
"Studies show that if you embed the conversation with how to pay for senior living in the beginning of the journey, and communicate that you have the solutions if somebody can't sell their home in time or doesn't want to at their move-in time, it can increase sales by 6%," says Elias.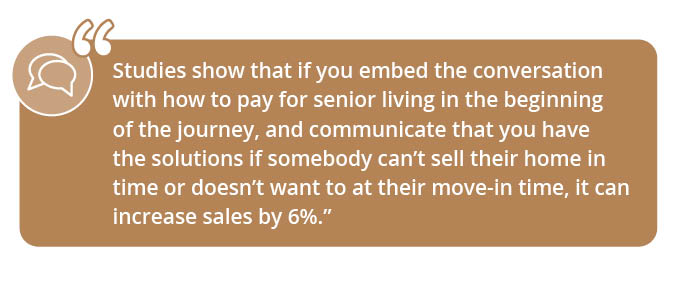 Rethinking Resident Engagement
Shawn Richard, Vice President Strategic Accounts, Cubigo
Shawn spoke about rethinking resident engagement and the importance of resident experience overall. Senior living sales and marketing programs are shifting more toward selling a lifestyle, and how to tailor the resident experience to meet the needs of the baby boomers as they filter into the senior living space. Communities need to have programs and activities that are personalized to residents, as well as having the methods to track resident engagement and satisfaction. Cubigo is an app that residents can download on their device, where they can track events in their calendar, RSVP to activities, manage their transportation and dining, and more.

"A focus on resident experience is becoming more prevalent, and people are talking more and more about it overall," says Shawn. "Programs are shifting to meet the needs of the new wave of seniors coming in. So we need a holistic and a personalized view on what they're looking for, versus the broad brush we used to apply to it."
"When looking at resident experience as a whole, it's not just experience itself, but how you can tailor it to the individual," Shawn says, "When you think about experience and selling lifestyle, there's a company who does a phenomenal job of it, and that's Margaritaville. They take their experience in resort living to apply to senior living, and these are properties pre-selling that are full before they even open."
Selling Through the Holidays
After the slowdown of the summer and the mad rush of September/October, November is calming down but is still steady. Life Plan Community sales and marketing leaders are staying busy with planning for the upcoming new fiscal year, and preparing for the busy holiday season of events. Many are hosting open houses to invite people into their community during the holidays.

"We're having a holiday dinner for residents, and that is always the event of the year. Anyone who is a depositor — whether they're a resident, or not moving in for months — can come as a networking opportunity." (Wisconsin)
"We've had snow the past few days, but we got in a turkey trot event before the snow came. We had residents from all levels of care doing laps on the grounds, dressed up as turkeys and other things." (Illinois)
Many communities hosted successful Veterans Day events and invited military guest speakers, or even their own residents, to share about their military experience.
"We're having a guest speaker from the local Air Force base coming out. We'll recognize our veterans, of course, and we'll do different military hymns. And the local ROTC will come out and do a presentation. We do offer a veterans' benefit with a discount on their entrance fee." (Arkansas)
Takeaways From SMASH
Several roundtable participants picked up new tools at the Senior Care Marketing & Sales Summit  (SMASH)

"Everything is all about local SEO, especially for standalone communities. Being local is so important, so [we're] trying to have more of a focus that way." (Wisconsin)
"Content is king. So much about the customer journey is having the right content, on the right platform, at the right time. Keywords aren't the thing anymore, but key intent is, the intent of the person viewing your content." (Washington state)
Join the conversation at our weekly Sales & Marketing Roundtables on Thursdays at noon ET, 11 a.m. CT and 9 a.m. PT.